Our testimonials serve as a testament to our expertise, reliability, and unwavering dedication to meeting and exceeding our customers' needs. We believe in the power of authentic feedback to inspire trust and confidence in our brand Hotel Royal Court Madurai, and we invite you to join our growing community of satisfied customers by experiencing our hospitality for yourself.
Pleasure to review Royal Court
The hotel ambiance is super, and one of elite hotel in Madurai, staff from security guard to Banquet hall Manager are so polite and gentlemen, Please go and celebrate any function or stay over there, you will not regret, I promise..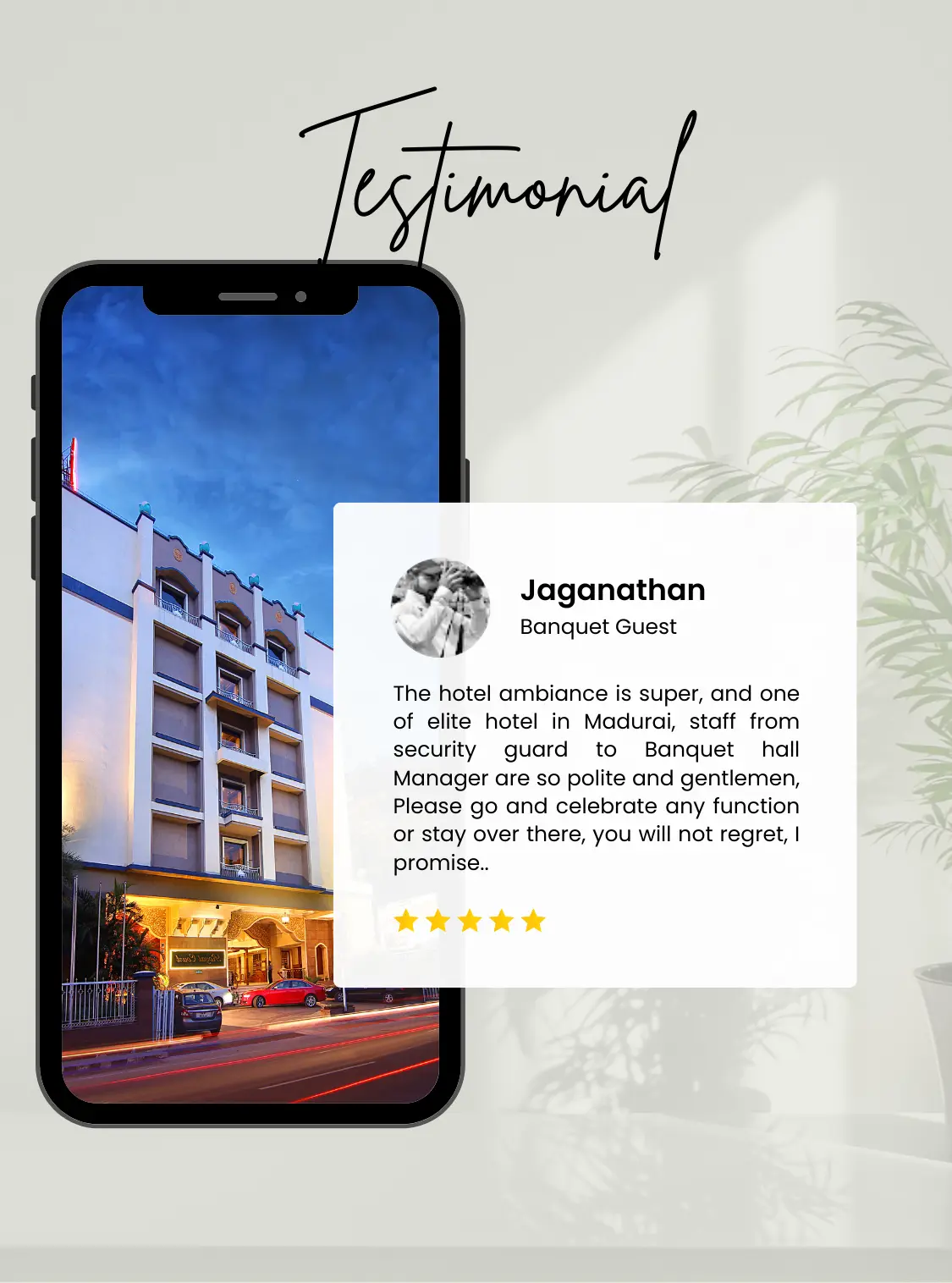 Such great hospitality. Especially Mr. Kumar's behaviour towards us was really great. I stayed in the room no 203 and the two people who did the room service there were extremely friendly and helpful. Convey my thanks to them. I really appreciate the way you respect your employees It was really amazing.

I'm a travel vlogger who has travelled all over India, including to the highest point in the country, as well as a travel enthusiast and frequent traveller. I've had a variety of hotel experiences. This Hotel Royal Court in Madurai is only a short walk from Madurai Junction Railway Station. First and foremost, this hotel's service is excellent, from reception to all services. Very clean rooms with good food.... The prices are also extremely reasonable. Strongly recommended.
This hotel is situated at a walkable distance from railway station. Bus stand and Meenakshi temple are easily reachable. Cordial staff, rooms were well maintained. My stay at the hotel was a pleasant experience. Loved their Breakfast spread.

The banquet hall was luxurious, with all the top-notch amenities you can think of for a birthday party. Plus, the staff went out of their way to make sure our stay was comfortable and enjoyable. Highly recommend this hotel!

The hotel is located in the area which is very near to Meenakshi Amman temple and railway station. Staff's hospitality, room services are very good. The rooms, lighting and decors are good. But could be much more spacious for 3 persons as they add an extra cot to the room.

Booking for marriage hallnis really tough these days. We searched good marriage hall for 250 people and found Royal Court. Good service loyal people as we lost our precious gift and they returned once found