The Hotel Royal Court Banquet Hall in Madurai is the perfect venue for weddings, corporate events and family functions with excellent decor, audio and video facilities, parking and accessibility. Skilled chefs and staff offer personalized services and scrumptious food.
Choosing the Perfect Banquet Hall in Madurai
Looking for the best place to hold an event in Madurai? Visit Hotel Royal Court Banquet Hall. It's in the center of Madurai and offers an elegant and stylish setting for any special occasion. Hotel Royal Court  Banquet Hall in Madurai has contemporary decor, spacious layout, and an impeccable design. Hotel Royal Court prides itself on providing the very best experience for their guests; therefore, the Banquet Hall is the perfect venue for weddings, business events, and significant life events because it can be customized to your specific purpose.
Our Exclusive Banquet Hall
Book Majestic Hall for your upcoming event! The spacious wedding hall in madurai can accommodates up to 350 guests and provides top-of-the-line equipment, ample parking, and catering services. The charming decor and lighting create a memorable ambiance, and the easily accessible location makes it convenient for guests. Don't miss out on creating an unforgettable celebration – secure Majestic Hall now!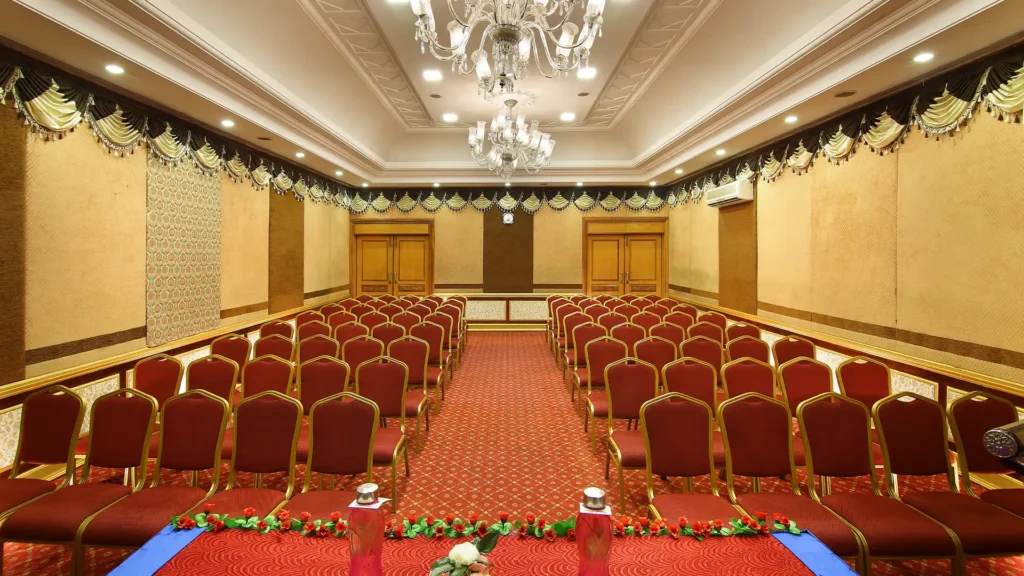 Viceroy Hall: event venue for up to 150 guests and is the best party hall in madurai, equipped with modern amenities and AV facilities, perfect for weddings & corporate events. Chic decor, natural light, and professional event staff.
Charminar Hall in Madurai is ideal for small events and best for conference hall with a 75-100 capacity. The venue has modern amenities, Wi-Fi, catering services, and traditional decor with Indian artwork and lighting fixtures. It is centrally located and affordable, making it a popular choice for business meetings, seminars, and community events.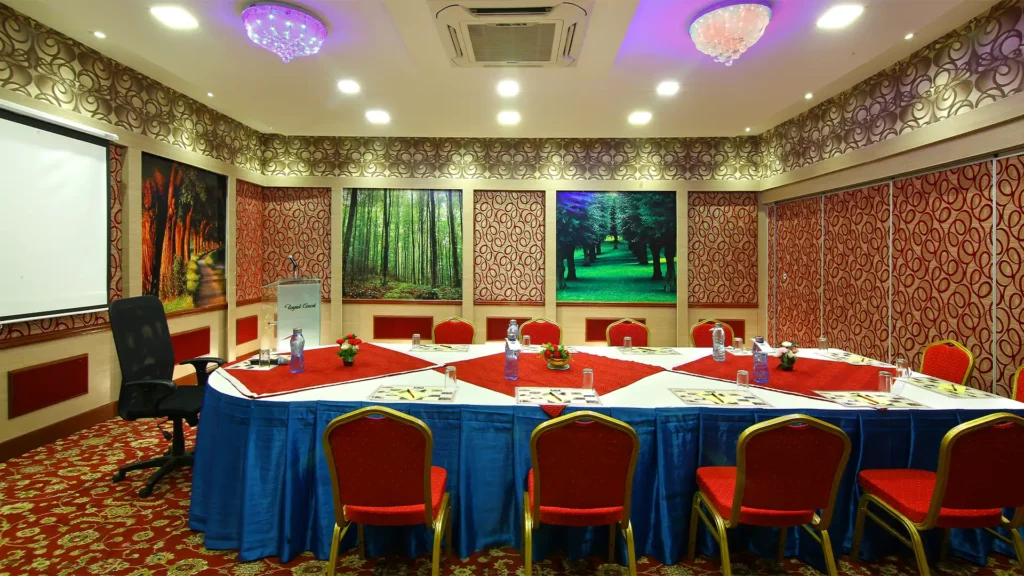 Panorama Hall is an intimate venue ideal for small gatherings like board meetings or birthdays and its a ideal birthday party hall in madurai. It fits 15-25 guests and has modern amenities and latest technology for a successful event. Its cozy ambiance suits productive business meetings and fun-filled parties alike. Panorama Hall is a versatile and memorable venue for all your needs.
Cave hall ideal for business meetings, with a capacity of 10 people and modern amenities including conference table, chairs, and audiovisual equipment. Natural stone walls and privacy, and it is a quiet space, conducive to productivity.
Rent our banquet hall for weddings, events, or parties & Conferencing