#1 Best Hotels In Madurai Guaranteed
A Haven of Luxury and Splendor: Hotel Royal Court
Luxury Rooms
Banquet Hall
Buffet Restaurant
Experience the unparalleled luxury of Hotel Royal Court, one of the finest accommodations in Madurai. Ideally situated near the famous Meenakshi Temple and conveniently opposite the Railway station, our esteemed establishment offers a selection of contemporary rooms for your complete comfort. Indulge in exquisite dining at our esteemed restaurant and savor the warm and hospitable service that awaits you. Book your stay now at the best hotels in Madurai and make your visit truly exceptional.
Unwind in Style: Experience the Best in Madurai
No matter which room type you choose, Hotel Royal Court being the best 3 Star Luxury hotel in madurai near meenakshi temple  is committed to providing an unforgettable experience that combines luxury, comfort, and impeccable service.
Stay in the Royal Superior Room at the best hotels in Madurai near the railway station. This luxurious and spacious room offers a beautiful view, a peaceful escape from the busy city, and a colorful ambiance. With its affordable price, don't settle for less – book your stay today and enjoy the fancy and grand experience of the 3-star Royal Superior Room.
Our Royal Premium Rooms are the epitome of comfort and luxury, allowing you to indulge in a truly exceptional experience. With elegant wooden floors and soundproof walls, you can enjoy a peaceful and tranquil ambiance. As one of the best hotels in Madurai near the railway station, our 3-star luxury hotel is conveniently located near the renowned Meenakshi Temple. Treat yourself to the finest accommodation and reserve your spot in our Royal Premium Rooms today.!
Discover the Pinnacle of Luxury: Hotel Royal Court
Hotel Royal Court was established in 2004 with the vision of providing luxury accommodation for travelers to Madurai. As one of the best hotels in Madurai, the Royal Court sets a new standard for luxury and comfort in the city. Known for our unrivaled levels of comfort and convenience.We are proud to offer our guests 69 well-appointed rooms, 4 spacious banquet halls, and a delicious buffet restaurant. Our convenient location opposite the Railway Station and just a stone's throw from the Meenakshi Temple makes us the perfect choice for travelers to Madurai.
Welcome to Hotel Royal Court: Redefining Excellence among the Best Hotels in Madurai
Experience The Royal Hospitality
Hotel Royal Court in Madurai offers luxurious air-conditioned rooms with free Wi-Fi, 24/7 room service, fitness center, Buffet restaurant. Plus, 4 Banquet Halls for up to 350 people capacity and services like laundry, Free Car Wash, travel assistance and airport transfers.Choose the Royal Court for your next visit to Madurai and experience the epitome of luxury, comfort, and impeccable service that has made it one of the best hotels in madurai. 
Unravel the Magic of Hotel Royal Court's Banquet Hall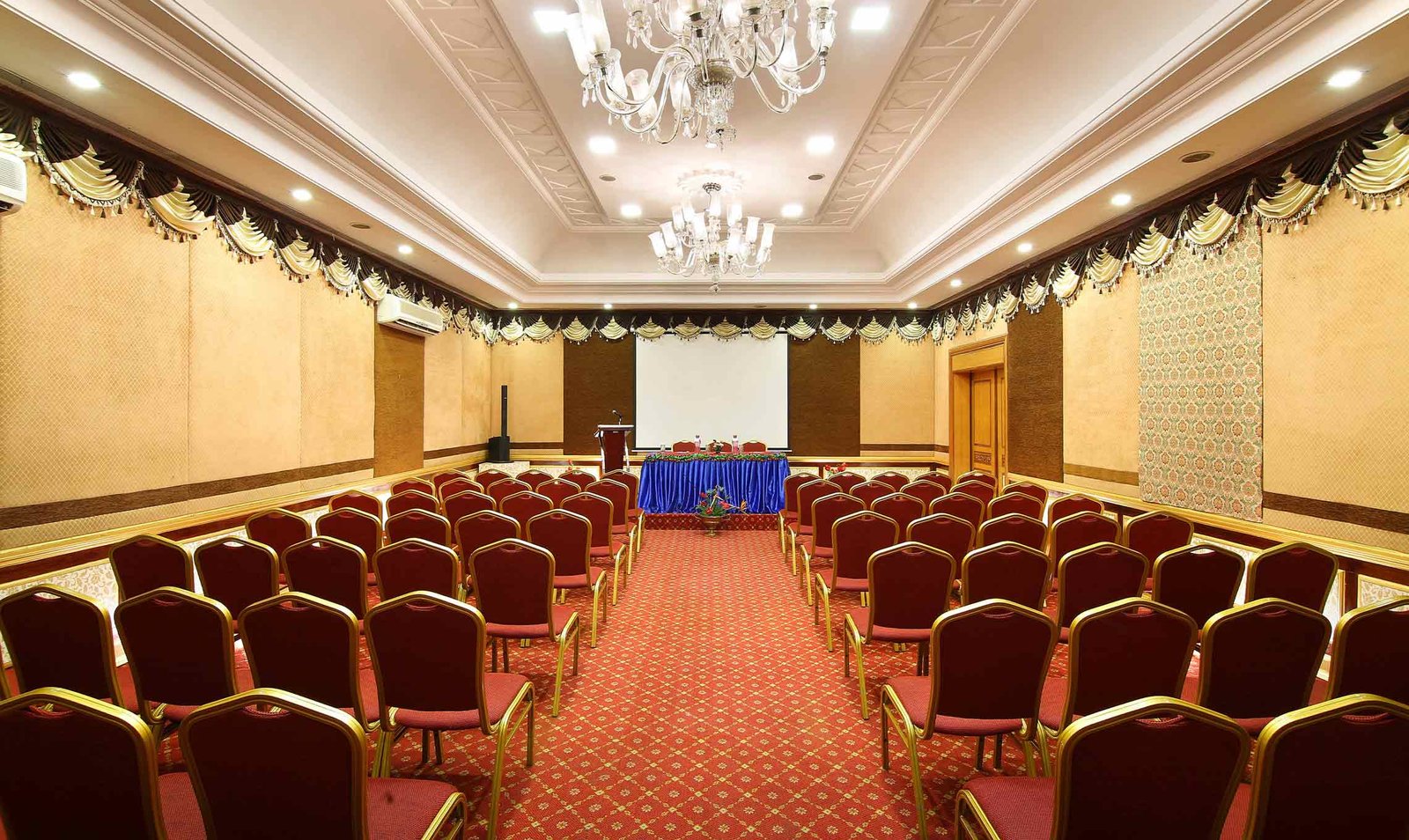 Viceroy Hall
The Viceroy Hall is a fancy and stylish place for important parties. It has tall ceilings, pretty hanging lights, and a shiny wooden dance floor.Loaded With all upgraded Amenities. Ideal for Birthday Parties,Get-together,Family Functions and conference.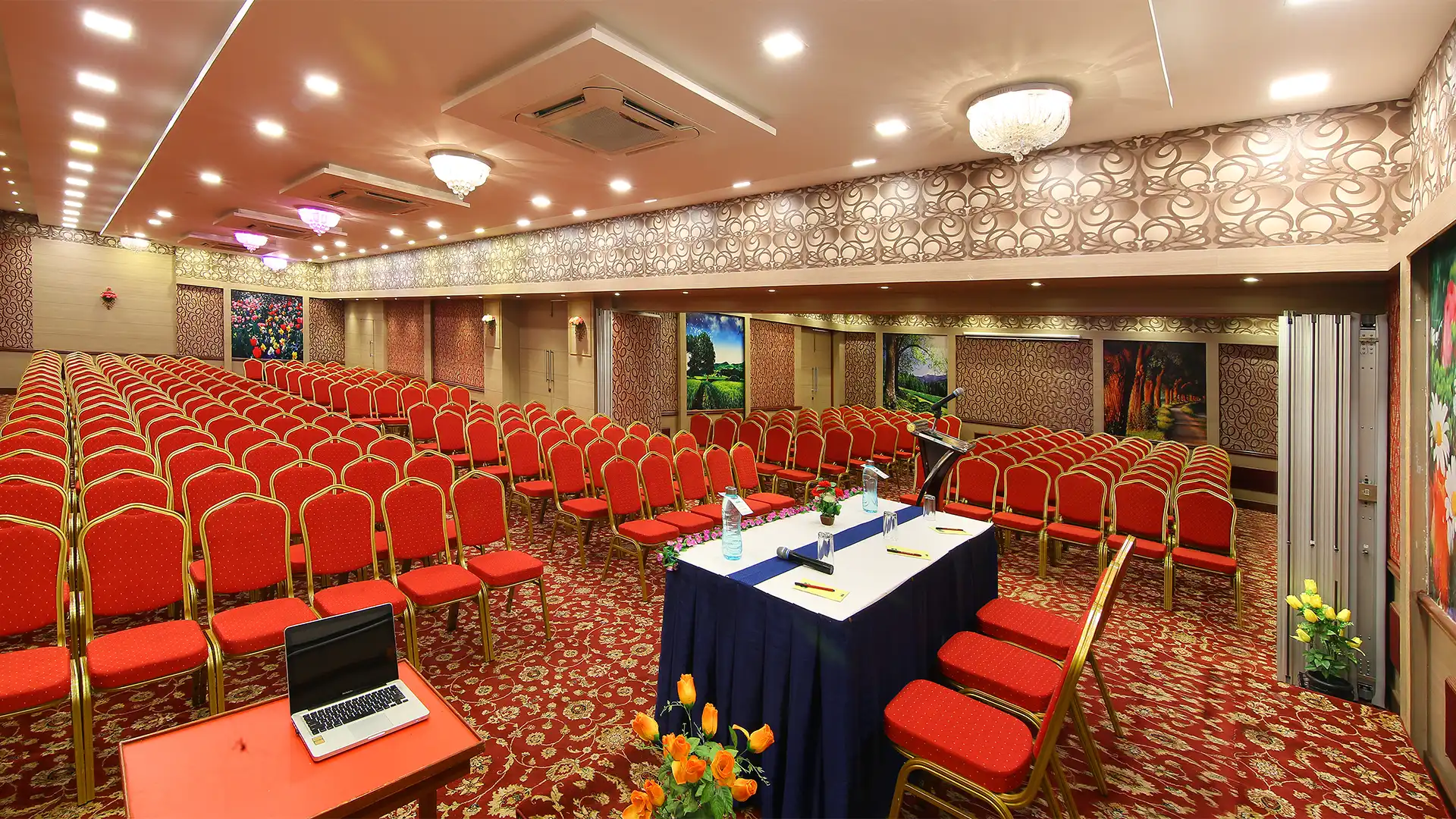 Majestic Hall
Book the Majestic Hall at Royal Court Madurai for your next special event! The venue is stunning and located in the heart of Madurai. With high ceilings and beautiful chandeliers, it offers an atmosphere of sophistication and elegance..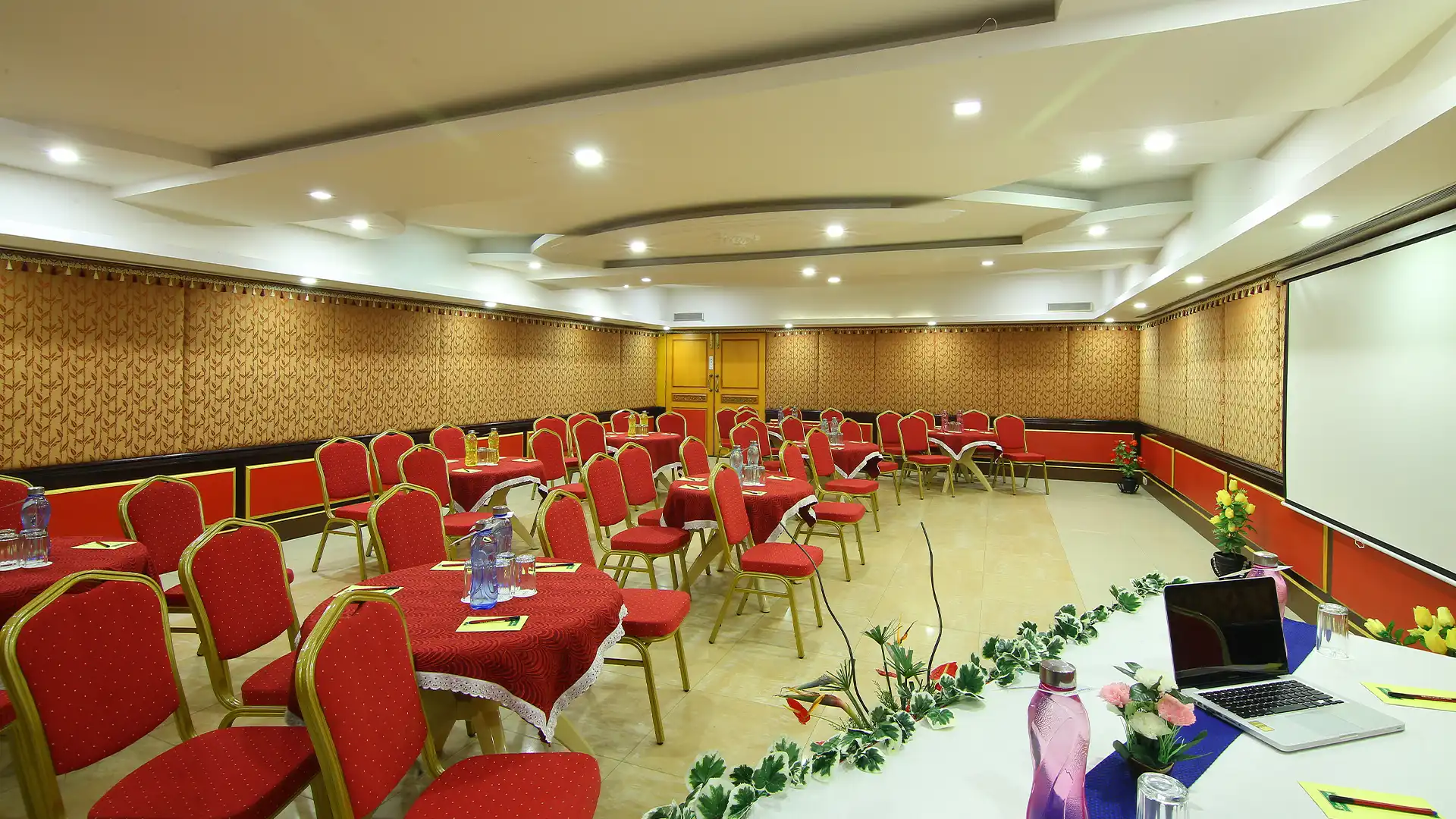 Charminar Hall
The Charminar Hall at Hotel Royal Court Madurai suits gatherings of up to 100 people flawlessly. Along with ample parking, the hall is also equipped with state-of-the-art audio-visual equipment and tastefully adorned to elevate the ambiance.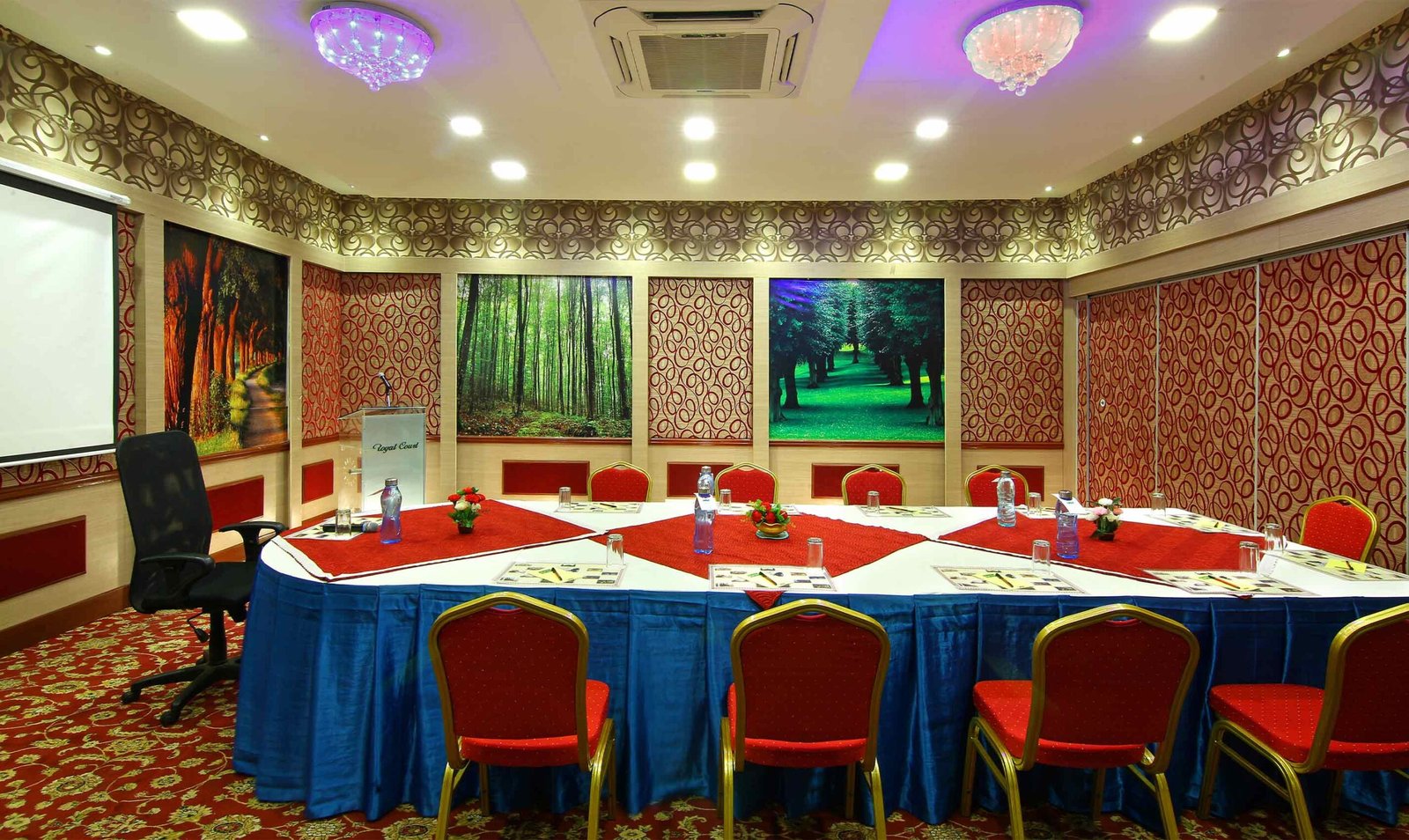 Panorama Hall
Panorama Hall is a contemporary and welcoming space designed for intimate gatherings of up to 25 individuals. The room is equipped with state-of-the-art AV technology, offering seamless presentations and remote connections.
Indulge in an endless feast: Madurai's Best Buffet!
Come and enjoy a fantastic experience at Crystal Buffet! Our restaurant offers a wonderful mix of delicious tastes and delightful surroundings to satisfy all your senses.
What are the top-rated facilities and services that Hotel Royal Court offers its guests?

Being the best hotels near meenakshi temple, we strive to provide our guests with exceptional service and a memorable experience. Our round-the-clock room service and free Wi-Fi are just some of the amenities we offer to ensure maximum comfort and convenience. Guests can also enjoy a complimentary car wash service during their stay. Our range of restaurants serving a wide variety of delicious cuisine and snacks is sure to delight any palate. With a prime location in Madurai, our guests have easy access to many popular attractions. It would be our pleasure to host you at Hotel Royal Court the only best 3 star hotels in madurai and exceed your expectations.
How close is Hotel Royal Court located to popular attractions such as Meenakshi Temple and the railway station in Madurai?

Hotel Royal Court Madurai is the best 3 star hotels near Madurai Meenakshi Temple and railway station. If you are looking for good hotels in Madurai, Hotel Royal Court is an outstanding choice that guarantees a delightful experience with its comfortable rooms, excellent amenities, and impeccable service, ensuring a memorable stay in the city.
Can you tell us more about the variety of dining options available at Hotel Royal Court's best Multi-Cuisine Restaurant?

Absolutely! Our best Multi-Cuisine Restaurant offers a range of delicious, mouth-watering dishes from across the globe. Whether you're looking for Indian flavors or international cuisine, our menu has something for every palate. From classic curries to modern fusion dishes, traditional tandoori fare to contemporary seafood and vegetarian options – we have it all! So come join us for a truly magical culinary experience that is sure to tantalize your taste buds.
Why i have to choose Royal Court Madurai for my stay?

A haven of Luxury and Splendor Hotel Royal Court is a highly recommended choice for your stay because of its convenient location in the city center, luxurious accommodations, exceptional service, diverse dining options, recreational facilities, and versatile event spaces. When it comes to Madurai's famous hotels, Hotel Royal Court stands out as a preferred choice, offering unmatched hospitality, exquisite accommodations, and an array of world-class amenities that ensure a truly remarkable stay in the city.
Why Hotel Royal Court is the Best Hotels in Madurai What Speciality do they have that others don't?

Hotel Royal Court is renowned as the best hotels in Madurai, thanks to its prime location, luxurious accommodations, exceptional service, diverse dining options, recreational facilities, and versatile event spaces. In addition, it goes above and beyond by offering A/C Dormitory Rooms with amenities like a 40-inch TV, free breakfast, and dinner for drivers staying at the hotel. Furthermore, the hotel takes care of the Guest cars by providing complimentary car wash services.
What are the best luxury hotels in Madurai?

Hotel Royal Court one among the best luxury hotel near meenakshi temple and city centre.Hotel Royal Court in Madurai is a shining example of 5-star luxury, showcasing opulent accommodations, exceptional service, and a host of lavish facilities, making it the epitome of excellence among Madurai's 5-star hotels.
What is the maximum capacity of your banquet hall in Madurai?

"Our banquet hall in Madurai can accommodate up to 350 guests across 4 halls that vary in size from 25 to 350 Pax. Our halls can accommodate any occasion – weddings, birthdays, or corporate events – with customizable options and an experienced staff dedicated to making your experience truly special."
Do you offer any specific packages for wedding events at your banquet hall?

"We offer wedding packages with expert staff for decoration and can assist with selecting the perfect option. Quality and hospitality extends to all events."
Is there a dedicated event coordinator available to assist with planning and organizing our event at Hotel Royal Court?

Yes, absolutely! Our dedicated event coordinators are available to assist with every step of planning and organizing your event. From helping you choose which hall is the best fit, making a customized menu selection, and creating an overall theme for the event, we will be there every step of the way. We take pride in ensuring your event is perfect from start to finish.
How many different types of events can be hosted at your banquet hall?

At Hotel Royal Court we are equipped to host a wide variety of events. Our banquet hall is perfect for weddings, engagement ceremonies, conferences, meetings, corporate events and birthday parties. No matter the type of event you have in mind, we can accommodate it and make sure that it is an occasion to remember!
Is it possible to customize the seating arrangement according to our event requirements?

Absolutely. Our staff will work with you to customize the seating arrangement for any size and any type of event. Whether it's an intimate gathering or a large scale event, our team will do their best to accommodate your exact needs. We guarantee that you won't be disappointed!
why i have to select hotel royal court for my family function?

Hotel Royal Court is a great choice for your family function because it offers an elegant ambiance, spacious event spaces, outstanding service, diverse culinary options, comfortable accommodations, additional amenities, and a convenient location.
Had a great stay at Hotel Royal Court in Madurai. Comfortable rooms, friendly staff, and amazing buffet breakfast. Highly recommended!
Hotel Royal Court Madurai is an excellent accommodation option with professional staff, outstanding buffet and unforgettable experiences. You'll be treated like royalty from the moment you walk through the doors.
Absolutely amazing location and exact opposite of railway station. Furthermore, the Meenakshi Temple is closest around 800mtr walk. Even More, the corridor shows railway station on one side and other side shows the three tower of Meenakshi Amman temple. Room service is absolutely up to the mark. Receptionist, waiters, and the manager was very gentle and kind towards our stay.